Adopt a Big Cat
5 Reasons to Adopt a Big Cat
1. Get a fantastic gift pack including a cuddly toy of your animal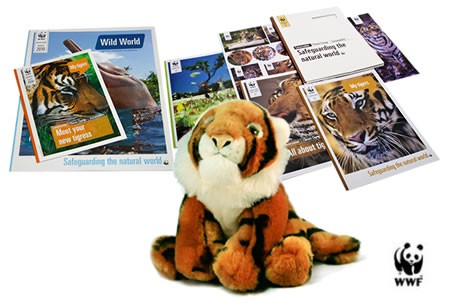 When you adopt a big cat with WWF the recipient will get a fun adoption pack including a cuddly toy of their chosen animal. This will be a great keepsake and something they can look back on and remember the fantastic person who gave it to them! 🙂 The gift pack includes stacks of information on their big cat and they will also receive regular updates to let them know how their animal is getting on.
2. You will be helping WWF with their conservation work
WWF work in over 100 countries to help protect wildlife and their habitat. Their science based approach to conservation relies on the kind gifts from supporters like you.
3. Help protect big cats from extinction
WWF do a large amount of work to protect lions, snow leopards, leopards and tigers to help protect these magnificent creatures from poachers and humans encroaching on their habitat. They may be some of the most powerful creatures on the planet, but they cannot survive without our help.
4. 52% of wildlife has been lost in the last 40 years
WWF recently published the results of their "Living Planet Index" which states than between 1970 and 2010 the number of wildlife on planet Earth fell by 52%! Take a moment to digest that quite startling fact. If we don't make a change and start protecting our planet and the wildlife upon it, the animals we take for granted such as big cats will not be there for our children and our children's children. Your regular support to the WWF can help to stop this alarming decline.
5. Show a loved one you care about them and our world
Buying a present can be a tricky task, but most presents end up in a draw somewhere unused. When you adopt an animal as a gift you will be providing a great present to open on the day. You will also be offering ongoing support to help protect your chosen animal, wildlife in general and their habitat. An animal adoption really is a gift that keeps giving.
The Recipient of the Gift Gets

a beautiful cuddly toy of your animal.
a gift pack including a factbook about your adopted species, bookmarks, stickers and a personalisable certificate.
Wild World magazine delivered 3 times a year plus regular updates on your chosen animal.
Perfect as a Last Minute Gift Even if you order late you can get a certificate to print or email to give on the day!
Delivery Info
By Post :
FREE Delivery to UK address with pack despatched within 3 days. Please allow up to 10 days for delivery. Express Delivery costs £7.50 if you order before 2pm Monday - Thursday.
Last Minute Gift? :
Receive a gift certificate to print or email up to the big day!
Latest from the Blog